Reason's Swiss Cheese Model Applied to Pandemic Defense
Human and Organizational Performance (H&OP)
After a few refinements, Ian Mackay proposes an application of Reason's model to solve the SARS-CoV-2 Pandemic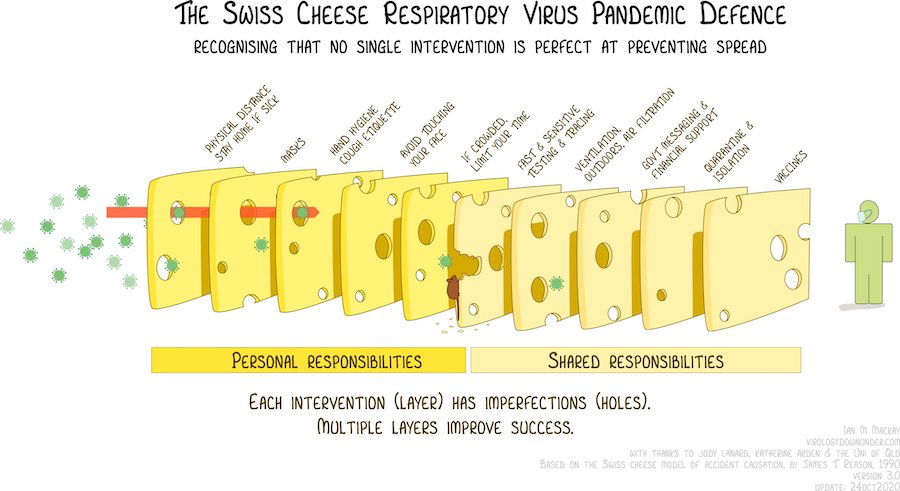 Ref: "The Swiss Cheese Infographic That Went Viral"
by Ian M Mackay virologydownunder.com December 26, 2020

James Reason originally proposed a model of what happens when an Organization's lines of defense break down. Reason called his model: "The Swiss Cheese Model of Defences". This model helps to visualize and explain the randomness of SIFs. H&OP has advanced since 1997. For the purposes of the way H&OP is being practiced in the twenties we propose slight modifications to Reason's model when used to discuss H&OP:

- Layer 1: Organization fails to mitigate all removable hazards and fails to"wrap" inherent hazards to tolerate human error by failing to a safe state.
- Layer 2: Safety Culture and Safety Management fails. (e.g. supervision)
- Layer 3: Error Reduction and Managing Defenses fails.
- Layer 4: Human Error inevitably occurs.




When the "holes line up"...the person's only hope to escape SIF is the PPE they are wearing.
Ref: "Managing the Risks of Organizational Accidents" by James Reason, Published by Routledge, Ch-1, pg-9, December 1997




Go Beyond
---
Learning Organizations know that making mistakes is the key to learning how do things more efficiently than their competition. Reason's Swiss cheese accident causation model pushes Learning Organizations to ask: How can we fail safely when we make a mistake when working near a hazard?